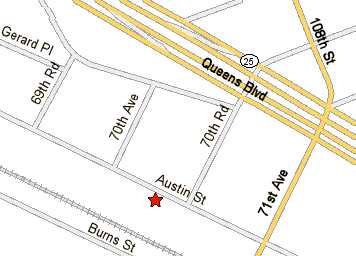 By Car:
Queens Blvd to 71st Ave (Continemtal) going Southbound. Turn next right onto Austin St, office one block on left above Lucille Roberts, #70-20 Suite 107, entrance on right of building just before theatre.

From West:
LONG ISLAND EXPRWY Exit 19, take Queens Blvd East, make right onto 71st and proceed as above.
GRAND CENTRAL PKWY Exit 11 (Jewel Ave./69th Rd) make first possible right onto 68th Ave, make left onto 108th St., follow straight accross Queens Blvd to 71st and proceed as above.